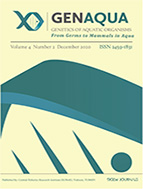 From Germs to Mammals in Aqua
CiteScore: 0.7
SCOPUS 2021
This journal is licensed under a
Creative Commons Attribution-NonCommercial-NoDerivatives 4.0 International License

Indexing in SCOPUS
All volumes of Genaqua have started to be indexed in Scopus. https://www.scopus.com/sourceid/21100945962

Renewed Submission Guideline
Ethics committee reports and Copyright Release forms are no longer required to be submitted by authors. See the Author İnstructions for the renewed submission guideline.

We have updated our website!
Our new review system has been made more user-friendly. Now, manuscripts can be assigned to referees within the system, and the review process can be tracked. Thank you in advance for your interest.
Assoc. Prof. İlhan AYDIN
Editor in Chief

Yearly published issue update
The journal will be published 3 issues (April, August, and December) starting from 2022.

SOFAS 2022 Dates are Announced!
International Symposium on Fisheries and Aquatic Sciences (SOFAS) set to be held from 25 to 27 October, 2022 at the SUMAE National GeneBank Conference Hall. The theme of the symposium is "Aquatic Genetic Resources for Food and Agriculture" and details on submission and participation are detailed at the symposium webpage at sofas.gov.tr.
Genetics of Aquatic Organisms (GenAqua)